The 10 countries with the greatest GEI progress
Income and equity are not directly related
Measuring variation as a percentage, the countries that registered most progress during this period were: in first place Rwanda, followed by Ecuador, Cape Verde and Guatemala
The 10 countries with the greatest GEI progress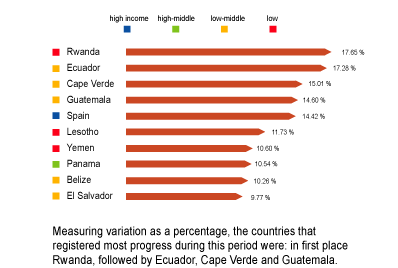 | | | | |
| --- | --- | --- | --- |
| Country | Region | Income | GEI 2004 - 2007: Percentage variation |
| Rwanda | Sub-Saharan Africa | Low income | 17.65 % |
| Ecuador | Latin America and the Caribbean | Lower-middle income | 17.28 % |
| Cape Verde | Sub-Saharan Africa | Lower-middle income | 15.01 % |
| Guatemala | Latin America and the Caribbean | Lower-middle income | 14.60 % |
| Spain | Europa | High income | 14.42 % |
| Lesotho | Sub-Saharan Africa | Low income | 11.73 % |
| Yemen | Middle East and North Africa | Low income | 10.60 % |
| Panama | Latin America and the Caribbean | Upper-middle income | 10.54 % |
| Belize | Latin America and the Caribbean | Lower-middle income | 10.26 % |
| El Salvador | Latin America and the Caribbean | Lower-middle income | 9.77 % |
Some key area measures for the promotion of gender equity are: education initiatives; gender sensitive finance and budgeting; and affirmative action legislation and policies.

Income and equity are not directly related
Examining the variations in relation to income levels we find that low-income countries have not progressed. However, the differences between countries with high, middle and low-middle incomes are not significant, which confirms that the relation between a country's income and gender equity is not direct.