ILO
Published on Fri, 2011-06-24 09:43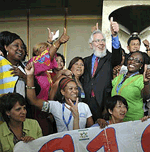 Juan Somavia with
representatives of domestic
workers. (Photo: ILO)
Source: SUNS.
In what is viewed as a historical moment, the International Labour Organization (ILO) adopted this month for the first time a landmark convention aimed at protecting between 53 and 100 millions of domestic workers worldwide, reported the South-North Development Monitor from Geneva.
Published on Wed, 2010-06-02 14:51
Source: ILO
GENEVA (ILO News) – Growing instability in financial markets and the sovereign debt crisis in Europe may put global economic and jobs recovery efforts at risk, according to a report by International Labour Office Director-General Juan Somavia to be discussed at the ILO's annual conference.