Spotlight Report 2017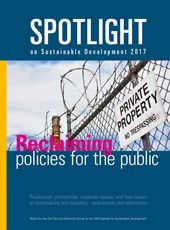 Independent monitoring and review of the implementation of the 2030 Agenda and its structural obstacles and challenges are key factors for the success of the SDGs. It is for this reason, the Reflection Group on the 2030 Agenda for Sustainable Development together with other civil society organizations and networks has produced the first annual Spotlight Report assessing the implementation of the 2030 Agenda and the structural obstacles in its realization. The report puts a spotlight on the fulfillment of the 17 goals, with a particular focus on inequalities, responsibility of the rich and powerful, means of implementation and systemic issues. What are currently the main obstacles to achieving the SDGs? Are there transnational spill over effects that influence or even undermine the implementation of the goals? Are the current policy approaches, as they are reflected, inter alia, in the 2030 Agenda, an adequate response to the challenges and obstacles (or are they part of the problem)? What has to be done? Which specific policy changes (at international level) are necessary?
Published on Thu, 2017-06-08 17:08
"Despite the importance of a healthy Pacific Ocean, evidence is mounting that this unique ecosystem is in real danger from anthropogenic threats such as overfishing, habitat destruction, and pollution and probably the most severe threat of all, climate change and resulting sea level rise" argued Maureen Penjueli, from the Pacific Network on Globalization, on occasion of the Ocean Conference that took place from June 5 to 9 at the United Nations in New York.
The rush to mine the deep seas is representing the newest frontier of extractive industry and perhaps the biggest threat to the world's oceans in the 21st century. There is a significant concern that seabed mining has the potential to cause major environmental destruction to the entire Pacific Ocean and would seriously undermine the implementation of SDG 14, to conserve and sustainably use the oceans, seas and marine resources.