Costa Rica
El amargo sabor de la piña
Costa Rica ha presentado hacia el exterior una imagen de país sostenible y comprometido con el medio ambiente, pero la realidad interna es muy distinta. La tensión entre la conservación y la actividad productiva provocan una creciente conflictividad social por el uso del territorio. Como un ejemplo del (in)cumplimiento de los Objetivos de Desarrollo del Milenio abordamos el caso de la producción agroindustrial de piña, que ha ido sitiando comunidades y zonas protegidas, y desplazando a cultivos tradicionales de importancia alimentaria. Causa gran preocupación, además, el paquete tecnológico agrotóxico utilizado sistemáticamente, que provoca la contaminación de fuentes hídricas. Entre 2003 y 2009 se presentaron más de 120 denuncias contra la producción piñera ante el Tribunal Ambiental Administrativo y el Ministerio de Ambiente, Energía y Telecomunicaciones.
Published on Thu, 2013-02-14 19:54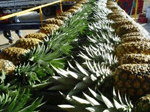 Pineapple. (Photo: coecoceiba.org)
Costa Rica has an outward image of sustainable country, committed to the environment; but the inner reality is very different.
The tension between conservation and productive activities cause increasing social unrest because of land use. As an example of (un) fulfillment of the Millennium Development Goals we address the case of agroindustrial production of pineapple, which has been besieging communities and protected areas, and displacing traditional crops of nourishing importance.
The technological package of agrochemicals used systematically is causing great concern, as it causes contamination of water sources.