INDICE DES CAPACITÉS DE BASE (ICB)
L'indice des Capacités de Base est un indice-résumé, développé par Social Watch , qui compare et répertorie les pays en fonction de leur progrès en matière de développement social. Il a été conçu comme un outil pratique de contrôle de l'évolution des indicateurs fondamentaux et dans le but d'établir des comparaisons à l'intérieur et entre les pays. L'ICB évalue la situation dans laquelle se trouvent les sociétés nationales par rapport à certaines capacités fondamentales minimales qui offrent des conditions de démarrage indispensables pour garantir aux personnes une qualité de vie adéquate.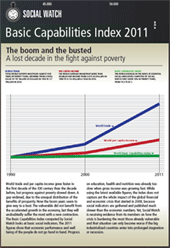 World trade and per capita income grew faster in the first decade of the XXI century than the decade before, but progress against poverty slowed down.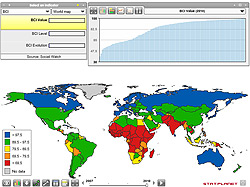 Interactive map showing Gender Equity Index (GEI) and Basic Capabilities Index (BCI) indicators