South Africa
The widening gap between rich and poor
The democratic gains of South Africa's 1994 transition rapidly came under pressure as the new leaders adopted neo-liberal policies in the face of demands of the poor majority for rapid socio-economic transformation. At the time,"12 million South Africans did not have access to clean drinking water, 21 million did not have access to adequate sanitation … and more than 20 million had no access to electricity,"[1] while 87% of the land was in the hands of about 60,000 white farmers.
Published on Thu, 2011-09-22 13:04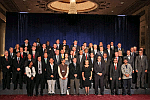 Launch of the Open Government
Partnership in New York
(Photo: Inesc)
Sources: Transparency International, Financial Task Force, HumanRights.gov, Inesc
A group of government and civil society organizations from all over the planet, among them the Instituto de Estudos Socioeconômicos (Inesc, focal point of Social Watch in Brazil), launched this Wednesday in New York the Open Government Partnership (OGP), a multilateral initiative that aims to promote transparency, fight corruption, strengthen accountability and empower citizens.