Bahrain: Heavy sentences to opposition and human rights activists
Published on Thu, 2011-06-23 07:32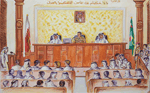 View of the National Safety Court,
according to the governmental
Bahrain News Agency.
Sources: Bahrain Center for Human Rights, International Federation for Human Rights.
The National Security Court of Bahrain sentenced this Wednesday to life imprisonment 8 of the 21 activists charged of being linked to supposed "terrorist activities". The 13 others were sentenced to two to fifteen years' imprisonment, reported several national, regional and international civil society organisations.
The International Federation for Human Rights (FIDH) and the World Organisation Against Torture (OMCT) expressed the same day their utmost concern, as they consider that the charges are politically motivated and the right to a fair trial has been disregarded. Both organisations called for the immediate and unconditional release of those detained.
The 21 defendants have been brought to trial and charged with "organising and managing a terrorist organisation", "attempt to overthrow the government by force and in liaison with a terrorist organisation working for a foreign country," and the "collection of money for a terrorist group". FIDH and OMCT have considered that the trials have the purpose of sanctioning the involvement in the peaceful protests demanding democracy and the respect for human rights.
Seven of the 21 individuals sentenced have been tried in absentia. Among the 14 who are under detention, several reported that they had been kept in solitary confinement and subject to continuous torture. Mr. Abdulhadi Al-Khawaja, former Director of the Bahrain Centre for Human Rights (BCHR) and sentenced to life imprisonment, has regularly declared that he has been subjected to torture. The trial was not held in public. On May, international observers were prevented to access to the second hearing. Since then, international observers --even journalists covering the events-- have been quasi systematically banned from entering the country.
"These sentences are extremely harsh, and they appear to be politically motivated," said Malcolm Smart, Director of Amnesty International's Middle East and North Africa Programme. "Civilians should not have been tried in a military court, that court failed to adequately investigate allegations of torture and false 'confessions'," he added
"The judiciary in Bahrain has failed to guarantee the most basics of fair trial. We fear that the Special Appeal Court, if referred to, will not be able to restore the confidence of the Bahraini people through achieving an independent justice," said Souhayr Belhassen, President of FIDH.
"Torture and ill-treatment are prohibited, in all circumstances, under international law and we therefore call on the authorities of Bahrain to immediately put an end to such practices and to promptly and impartially investigate the aforementioned reports. Sentences based on statements made as a result of torture must be overturned as stipulated in Article 15 of the UN Convention against torture and other cruel, inhuman or degrading treatment or punishment, to which Bahrain is a State Party," said Eric Sottas, Secretary General of OMCT.
The rulings further cements 2011 as the worst year for press freedom in Bahrain since the island kingdom declared its independence in 1971, according to the Committee to Protect Journalists.
Among the 21 men convicted are two bloggers, Abduljalil Alsingace, sentenced to life imprisonment, and Ali Abdel Imam, sentenced to 15 years in prison in absentia, the official Bahrain News Agency said. They were found guilty of 12 anti-state charges, after being arrested last year accused of spreading "false information" and of having abused of "the freedom of opinion and expression prevailing in the kingdom", but they were released as part of a royal amnesty in February and rearrested in March.
Hundreds of civilians are being prosecuted before the Security Court following the protests in Bahrain, and most of them for exercising their rights to freedom of peaceful assembly and expression without due process. Moreover, at least 1,700 people have been fired or suspended from their jobs due to their participation or for activities linked to the protest movement.
»