Women living in a globalized world
Published on Wed, 2011-08-03 07:28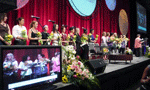 Women's World conference.
(Photo: Elizabeth Littlejohn)
Sources : Xtra!, Care2.com, Rabble.ca.
Globalization has contributed to the destabilization and marginalization of women, but has also meant enhanced communications and organization and atransnational connectivity that must be united asorganizations and networks struggle to sustain themselves and maintain resilience in the face of forces that oppose equality. That became clear at Women's World, the conference in Ottawa that marked the 30th anniversary of the Women's World Congress and that brought together nearly 2,000 international activists, academics and policy makers from 92 countries over five days last month.
The participants "focused largely on aboriginal indigenous women, women with disabilities and intergenerational dialogue," said Caroline Andrew, co-chair of the congress. The deliberations also marked the persistent differences in the global women's movement between activists defending sex worker's rights and those who fight for the abolition of prostitution, as noted Canadian gay and lesbian news portal Xtra!.
"The last 30 years have been a huge transformation in the lives of women across the globe. We know that as globalization becomes more and more entrenched as the new world order, women around the world are mounting impressive opposition to colonialism, capitalism, imperialism, and inequality," said Andrew.
The theme of the conference was "Inclusions, exclusions, seclusions: Living in a globalized world, and each day's sessions were based upon the themes Breaking Cycles, Breaking Ceilings, Breaking Barriers and Breaking Ground.
The conference began on July 3rd with some controversy, when Rona Ambrose, Canada's Status of Women Minister, was booed by some members of the audience, reported Care2.coma Canadian news portal. She spoke about her Conservative government's commitment "to bettering the lives of women and girls in communities across Canada and around the world." The Conservative government, however, is known for significant funding cuts to women's organizations, including a recent decision to deny funding to the International Planned Parenthood Foundation.
One of the July 4 sessions focused on marketing aimed at girls and women, reported Care2.com. While the presentations covered a broad spectrum - from Bratz dolls to "female friendly" businesses to Barbie and the pornification of society - they all came back to the idea that the marketers are grooming women and girls to choose oppression.
Lauren Levesque, from Ottawa, told the audience that through interviews she found that mothers were concerned about the influence of the Bratz dolls on their daughters. They described the dolls as materialistic, trashy and hyper-sexualized. The girls, on the other hand, saw the dolls as nice, fashionable, and beautiful. They didn't see the negative aspects of the dolls that their mothers saw. In her research, Ms. Levesque found that girls took pleasure in being objectified. She concluded that children should not be put in a position of making that type of choice and should instead just be able to enjoy being young without being pushed to identify with much older and damaging images of what a girl or a woman should be.
Nathalie Elaine Meza Garcia, a political scientist from Colombia, examined the ways in which the Barbie character tries to break away from patriarchy while still leaving her oppressed. The Barbie slogan, "We Girls Can Do Anything" is intended to be a feminist slogan. However, there is a hidden inconsistency in this. Women are able to enter into new spaces and break glass ceilings, but they still have to be beautiful, nurturing mothers, good homemakers, and doting wives. Essentially, women have demanded the right to do anything that men can do, but they have not shed any of their old roles, duties or subjugation in doing so.
After the conference, Xtra! reported that sex workers and their allies found themselves silenced and outnumbered by anti-sex-work groups.
"Designed to bring together researchers and activists on women's issues, this year's event unexpectedly highlighted a deep and painful fissure in the feminist movement, with hostile clashes at the sex-worker advocacy panels and in the common spaces over the course of the five days," wrote journalist Lara Purvis. "The schedule included numerous panels arguing, from various angles, to end global prostitution. This movement, more commonly associated with an earlier generation of anti-pornography, anti-sex-work feminism, argues that sex work is inherently exploitative of women, further entrenching patriarchal structures," she added.
"In comparison, pro-sex-work groups at Women's World were small in number. Groups like Prostitutes of Ottawa/Gatineau Work, Educate and Resist (POWER), Toronto's Maggie's and Montreal's Stella work as sex-worker advocacy groups, arguing for safer working conditions, harm-reduction strategies and the option to choose their occupation. Together they support groups like Sex Professionals of Canada (SPOC), which has made significant grounds in arguing for decriminalization in Canada," reported the journalist. "The chasm between the two groups became obvious at the Women's World multimedia exhibit 'Flesh Mapping: Prostitution in a Globalized World', which attracted much attention among media and conference delegates and marked a strong prohibitionist ideology throughout the conference."
The exhibit included 70 used bed sheets as canvases that expressed sentiments such as "Women are abandoned in the name of choice."
"I found it incredible. Being in that room, with all the folk-art-looking quilts and sheets that denied our existence, that denied the existence of choice in the sex industry at all, just made me want to die," said Tuulia Law of SPOC and the president of Students for Sex Workers' Rights.
After the presentations by panellists, which included Frédérique Chabot (POWER) and Colette Parent and moderators Chris Bruckert (University of Ottawa) and Nengeh Mensah (the Université du Québec à Montréal), the language turned personal.
When one audience member suggested that the presenters were perpetuating not only patriarchy but also the oppression of capitalism with their choices, a group of anti-sex-work supporters stood up and cheered.
"It felt like a tornado went through the room," agrees Lindsay Blewett, an escort who attended the workshop. "It's really hard to describe how it felt. I felt so powerless, as nothing we could have done would have changed anything. They were not there to dialogue. They were there to humiliate us, to silence us, to laugh at us, to yell at us."
More information
Women's World