SOCIAL WATCH E-NEWSLETTER - Issue 54 - September 16, 2011
Published on Fri, 2011-09-16 13:20

Issue 54 - September 16, 2011
The IMF and the World Bank discover equity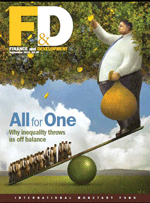 Finance & Development magazine
Civil society organizations have been arguing in vain for years that combating inequity is not just an ideological position but a practical policy option, and not to adopt it would be fatal for the world economy and for human development. And now at last inequity is becoming a key subject for concern in international financial institutions and among the academics whose theories underpin their operations.
Read more
Rio2012: Latin America defends sustainability and rejects "green economy"
Representatives of the governments of Latin America and the Caribbean who convened this week in Santiago de Chile didn't include among their recommendations to the United Nations Conference on Sustainable Development (Rio2012), to be held next year in Brazil, the concept of "green economy".
Read more
Syria: Silence is not an option
More than 170 national, regional and international civil society organizations sent an open letter to Dr. Nabil El Araby, Secretary General of the League of Arab States, urging the bloc to put pressure on Syria's government to effectively end the crackdown on peaceful opposition, release all political prisoners and provide compensation for victims.
Read more
Timor-Leste must keep itself debt-free, urge CSOs
The government of Timor-Leste must "keep the nation debt-free and refrain from borrowing money from international lenders […] to protect its future generations," warned 137 civil society organizations based in 32 countries. Dili has not borrowed foreign funds since its independence in 2002.
Read more
Tunisian League for Human Rights could hold its congress after 11 years
The Tunisian League for Human Rights (LTDH, one of the focal points of Social Watch) held its annual congress for the first time in 11 years from Friday to Sunday. The group, barred from carrying out all activities under president Zine El Abidine Ben Ali's regime, called on the country's next authorities for an independent justice system, respect for women's rights and the end of capital punishment.
Read more
Eastern Africa: Pastoralism in arid lands can help defeat hunger
As hunger threatens 12 million people in the Horn of Africa, a study by the International Livestock Research Institute (ILRI) of the response to Kenya's last devastating drought found that investments to increase the mobility of livestock herders – a way of life often viewed as "backward" despite being the most economical and productive use of that country's drylands – could be the key to avert future food crises.
Read more
Made possible thanks to the funding and support of the European Union and Oxfam Novib.

The international secretariat of Social Watch also receives funding and support from the Coalition of the Flemish North South Movement - 11.11.11.
The contents of this publication are the sole responsibility of Social Watch and can in no way be taken to reflect the views of the European Union, Oxfam Novib and the Coalition of the Flemish North South Movement - 11.11.11.