-- Ninguno --
Published on Sun, 2020-09-20 10:31
Multilateral solidarity is gaining traction as the slogan for mobilizing support for international cooperation and for the UN. Is it replacing or merely renaming cross-border obligations - many of which have been enshrined over decades in UN treaties, conventions and agreements, and the principle of common but differentiated responsibility in their implementation?
Published on Fri, 2011-09-16 13:20
Published on Wed, 2011-06-22 07:40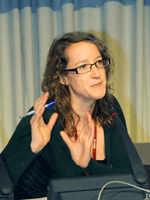 Hannah Stoddart, Policy
Coordinator of the Stakeholder
Forum. (Photo:IISD)
Source: Eurostep
Ahead of the UN Conference on Sustainable Development (UNSCD, or Rio+20) to be held in Rio in June next year, civil society organisations have described the official preparatory processes as being too slow and weak in content. If the conference is to live up to its commitment to achieving sustainable development, a fundamental paradigm shift in the global economic structure is needed, stated Eurostep this week.