Bahrain: Harsh prison sentences to doctors, nurses and paramedics
Published on Mon, 2011-10-03 08:33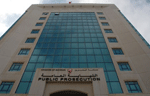 The Public Prosecution studies
the appeals. (Foto: BNA)
Abdullah Al-Derazi, secretary general of the Bahrain Human Rights Society (BHRS, focal point of Social Watch), said he hoped the 20 doctors, nurses and paramedics condemned to 5, 10 and 15 years imprisonment on Thursday by a military court would have their sentences reduced on appeal before being pardoned.
"I expected the military court to impose harsh sentences. I think at the appeal court the sentences will be reduced, and a royal pardon will probably happen later on," Al-Derazi said to British television network Channel 4.
The commission of inquiry appointed by King Hamad bin Issa Al-Khalifan is expected to issue its final report by the end of October. Al-Derazi said a royal pardon was likely in November, "so we can start afresh".
"At an economic level we are suffering, the social fabric is suffering and on the political level there's reason for optimism that change has to come," he added.
Dr Bassem Dhaif, one of the Bahraini doctor sentenced to 15 years in prison after treating an injured demonstrator, told Channel 4 News he was tortured after witnessing "the most atrocious attacks on innocent protesters".
Speaking via webcam, he said he made a confession after "very violent torture". "I was subjected to various kinds of torture during those days, physical torture, verbal torture, pshychological torture, massive attacks on my [Shia Muslim] religious beliefs," Dr Dhaif said.
"I was kept standing continuously for 12 days […], I developed massive swelling of my legs and because of that I lost sensation in both of my feet. Probably, I have developed a clot in the veins of my legs. I was charged with occupying a hospital, using weapons. All of this is untrue. It's just because I have treated a protester who has been attacked with live ammunition," the doctor said.
The medical staffers were convicted of inciting hatred of Bahrain's rulers and calling for their overthrow during the protests. They are not in prison at the moment because they are mounting an appeal, which began on Sunday. The Supreme Criminal Court of Appeal will convene on October 23 to consider the case.
Dr Nada Dhaif, a cousin of Bassem Dhaif who also received a 15-year sentence, said she was sexually harassed, beaten and cursed, "all of that just to obtain the confession" that she was forced to sign while blindfolded.
The Gulf Centre for Human Rights and the Bahrain Center for Human Rights condemned "in the strongest terms the unfair and harsh verdicts" issued by the National Safety Court against the 20 health professionals.
US based organization Human Rights First condemned the sentence saying it mades "a mockery of Bahrain's legal process."
United Nations Secretary-General, Ban Ki-moon, and the UN High Commissioner for Human Rights also voiced their concern at the sentences handed last week in Bahrain against medical professionals, teachers and others as a result of pro-democracy protests earlier this year.
Several human rights organizations also urged Washington to delay a proposed arms sale to Bahrain, proposed by US Defense Department to the Congress on September 14, until the kingdom ends the abuses against peaceful critics of the ruling family and takes meaningful steps towards accountability for serious human rights violations.
More information
University dismissed teachers for political reasons: http://bit.ly/qZk1GZ
Heavy sentences to opposition and rights activists: http://bit.ly/mQP896
BHRS head to be accused by the regime: http://bit.ly/qcadik
Doctors freed on bail, but other prisoners still on hunger strike: http://bit.ly/pdpUIS
This information is based on data from the following sources:
Channel 4: http://bit.ly/Ia2B
Bahrain Center for Human Rights: http://bit.ly/e1nFfp
Bahrain Human Rights Society: http://bit.ly/qoqmFV
Bahrain News Agency: http://bit.ly/pdpUIS
»