SOCIAL WATCH E-NEWSLETTER - Issue 56 - September 30, 2011
Published on Fri, 2011-09-30 08:48

Issue 56 - September 30, 2011
Financial Transactions Tax: the time has come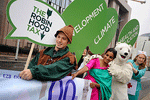 Robin Hood Tax campaign signs.
(Photo: Oxfam)
The idea of taxing international financial transactions is gaining ground. The European Union is promoting it internationally and studying the possibility of imposing it throughout the bloc, or at least in the euro area.

Canada: One in five New Brunswickers below the low-income threshold
Poverty costs tax-payers of the eastern province of New Brunswick more than $2 billion (some U$S 1,9 billion) a year, according to a report released Tuesday by the Common Front for Social Justice and the Canadian Centre for Policy Alternatives, one of the focal points of Social Watch in the North American country.

Zambia: Women for Change calls on the incoming government to safeguard peace
Emily Sikazwe, executive director of Women for Change (WfC, one of the focal points of Social Watch in Zambia), congratulated Michael Chilufya Sata on his election as the 5th Republican President of that African country. She also called on "all peace loving Zambians to embrace the change of government with dignity and unity", according to Q FM radio station.

LDC Watch observed International Day of Peace in Nepal
LDC Watch International Secretariat in Nepal participated in a mass rally coordinated by the Ministry of Peace and Reconstruction on the occasion of the Day of Peace on Sept. 21 in Kathmandu. Rural Reconstruction Nepal (RRN, focal point of Social Watch), South Asian Alliance for Poverty Eradication and hundreds of people representing various government agencies, civil society organizations and private sectors participated in the rally.

Tunis: League for Human Rights focuses on electoral monitoring
The implementation of an observatory to monitor next month's elections is the current priority of the Tunisian League for Human Rights (LTDH, one of the focal points of Social Watch in that country), announced its new chairperson, Abdessatar Ben Moussa.

Yemen: Justice needed to stop abuses
Yemeni people are suffering from a deteriorating human rights and security situation, and the abusers should be subject to justice in order to restore stability and to allow a political dialogue, warned Ezzadin Al-Asbahi, director of the Human Rights Information and Training Center (HRITC, focal point of Social Watch) last week

SOCIAL WATCH IS AN INTERNATIONAL NGO WATCHDOG NETWORK MONITORING POVERTY ERADICATION AND GENDER EQUALITY
Social Watch E-Newsletter
For comments, sugestions, collaborations contact us at:
To stop receiving this newsletter send a message with the subject "unsubscribe" to:
Made possible thanks to the funding and support of the European Union and Oxfam Novib.

The international secretariat of Social Watch also receives funding and support from the Coalition of the Flemish North South Movement - 11.11.11.

The contents of this publication are the sole responsibility of Social Watch and can in no way be taken to reflect the views of the European Union, Oxfam Novib and the Coalition of the Flemish North South Movement - 11.11.11.