SOCIAL WATCH E-NEWSLETTER - Issue 84 - May 11, 2012
Published on Fri, 2012-05-11 13:21

Issue 84 - May 11, 2012
"The future we want" is still bracketed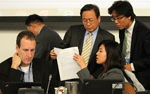 Co-Chair Kim Sook (center) at
the meeting in New York.

(Photo: IISD)
Government representatives have failed last week to reach consensus on "The future we want," the global plan of action to be adopted next month by the UN Conference on Sustainable Development (Rio2012). The second round of informal negotiations on the draft outcome document, held at the United Nations headquarters in New York, saw intense debates and divides among delegates, who agreed to meet again for other five days of deliberations to bridge differences.

A new global architecture for sustainable development
With the Rio2012 Summit approaching, a preparatory meeting in New York last week discussed how to strengthen or create various institutions to deal with the three dimensions of sustainable development, wrote Martin Khor, executive director of South Centre, in his most recent column for The Star, one of the leading Malaysian newspapers, and the South North Development Monitor.

Bahrain: FIDH demands the immediate release of Nabeel Rajab
The International Federation for Human Rights (FIDH) stated this week its grave concern about the arrest of its deputy secretary general, Nabeel Rajab, and the continuing targeting of activists in Bahrain. On May 5, Rajab, president of the Bahrain Center for Human Rights, was arrested after arriving at Manama airport from Lebanon and is currently detained in Al Hawra police station.

The people must "fill the void as NATO draws down" from Afghanistan
The NATO Summit to be held later this month in Chicago "is unusual compared to previous summits as it will not reaffirm the allocation of more resources to its mission in Afghanistan, but the alliance will seek how to withdraw from a leading combat role in an increasingly unpopular decade­long war," remarked the Afghanistan Young Leaders Initiative in a position paper issued last week.

Bangladesh: IMF loan will increase the burden on the poor, warns EquityBD
The International Monetary Fund approved a loan of one billion dollars to Bangladesh after two years of negotiations. The Equity and Justice Working Group (EquityBD), an alliance of right-based civil society organizations, has continuously and consistently protested it. This is the first loan that the Asian country has taken in seven years.

Social Watch India: Workshops on BCI, GEI and Muslim disadvantages
Social Watch India organized two half-day workshops, the first on the Basic Capabilities Index (BCI) and the Gender Equity Index (GEI), and the second on National Minorities Commission. Based on the same methodology developed by Social Watch at the international level, the Indian network is assessing both indexes at a sub-national level.

SOCIAL WATCH IS AN INTERNATIONAL NGO WATCHDOG NETWORK MONITORING POVERTY ERADICATION AND GENDER EQUALITY
Social Watch E-Newsletter
For comments, sugestions, collaborations contact us at:
To stop receiving this newsletter send a message with the subject "unsubscribe" to:

The contents of this publication are the sole responsibility of Social Watch and can in no way be taken to reflect the views of Oxfam Novib and the Coalition of the Flemish North South Movement - 11.11.11.