Climate events and bio-fuels light the threat of a global food crisis
Published on Thu, 2012-08-16 12:07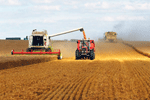 Grain and sugar prices surged
in July. (Photo:
Olivier Thuillier/FAO)
The FAO Food Price Index climbed 6 percent last month, driven by the heatwave and droughts in the United States and extreme weather conditions elsewhere. The price spike wakes up the ghost of a global crisis like the one that badly hurt the poor and vulnerable groups among the world population in 2007-2008, experts warn.
The FAO (UN Food and Agriculture Organization) reported last week that its index rebounded due to a sharp rise in grain and sugar prices, after three consecutive months of decline.
"There is great likelihood of a repeat of the food price crisis of 2008 that led to riots and demonstrations in over 30 countries. Another concern is that the warnings by scientists that climate change can lead to a decline in food production are already becoming a reality," wrote Martin Khor, executive director of South Centre, in his most recent column for The Star, one of the leading Malaysian newspapers.
In that respect, FAO explained that "the severe deterioration of maize crop prospects in the United States following extensive drought damage pushed up maize prices by almost 23 percent in July", and that the international wheat prices "surged 19 percent amid worsened production prospects in the Russian Federation and expectations of firm demand for wheat as feed because of tight maize supplies".
The UN agency's Sugar Price Index leaped 12 percent. The upturn "was triggered by untimely rains in Brazil, the world's largest sugar exporter, which hampered sugarcane harvesting", and by "concerns over India's delayed monsoon and poor rains in Australia".
Forecasts of droughts in some Indian territories also threaten the production prospects for grains, pulses, oil seeds and cotton.
Khor's column remarks some other causes of concern, such as "the floods in China, the Philippines and Pakistan," that "have been linked to climate change as well as being the driving force behind the spike in prices of foods".
On the other hand, dairy products and rice prices remained mostly unchanged, and the FAO meat price index fell.
The International Food Policy Research Institute (IFPRI), supported by governments, private foundations, global and regional organizations, warned that the most severe and extensive drought in the US since the 1950s is adversely affecting production of maize and soybeans, driving up prices of agricultural products.
Effectively responding to the drought in the US ̶ due to below-normal rainfall and above-normal temperatures ̶ can prevent another global food crisis, suggested IFPRI Director General, Shenggen Fan.
"Poor and vulnerable groups in developing countries are hard hit by high and volatile prices of the agricultural commodities they depend on for their primary daily caloric intake. As experienced during the 2007-2008 global food price crisis, price movements in domestic markets can have significant impacts on global markets, and vice versa," explained Fan.
Khor added that "corn is a vital crop because it is used not only as food itself, but also as the main part of animal feed and an ingredient of many foodstuffs. The prices of poultry, red meat, milk and many processed foods are predicted to go up."
Considering the gravity of the situation, the IFPRI asked for a halt to bio-fuel production from maize, a long-time demand claimed by civil society and academic organizations all over the world.
"According to the Economic Research Service of the US Department of Agriculture, 62 percent of US farms are located in areas experiencing drought. About 40 percent of maize and soybeans and 44 percent of livestock are produced in areas experiencing severe drought. As a result, national crop yield and harvest estimates for maize and soybeans have been lowered considerably," wrote Shenggen Fan in a statement released to the media by the Washington-based food policy think-tank.
According to the IFPRI report, "prices of maize and soybeans have already started to rise rapidly and could increase further depending on the degree of severity and extent of the drought. In the past two months alone, US export prices for maize and soybean increased by 30 and 19 percent respectively, with prices of both crops reaching record highs."
Crop losses for maize "are coming close to 20 percent and could reach 30 percent or more if extreme drought conditions persist," while "prices of maize and soybeans have already started to rise rapidly and could increase further depending on the degree of severity and extent of the drought," explained Shenggen Fan. The situation gets worse because US export prices for maize and soybean increased in the last two months alone "by 30 and 19 percent respectively, with prices for both crops reaching record highs".
Khor agreed with Fan on the consequences of fuel production with agricultural inputs. "The bleak or uncertain prospects for supplies and prices of some foods have revived the controversy of the increasing use of crops for bio-fuels instead of food," he said.
Last week, the new head of the FAO Jose Graziano da Silva "called on the US to change its policy by temporarily lifting its present mandate that 40% of its corn is used for making ethanol," reported Khor. "An immediate suspension of this ethanol mandate would allow more of the crop to be channelled towards food and feed uses."
"The higher prices of imported foods and the uncertainty of supplies will also catalyse food-importing countries to again consider greater food self-sufficiency as a priority," he added. "Many countries that had produced their own food and were even net exporters had experienced an agricultural decline as their governments withdrew their support for farmers […] as a condition for obtaining structural adjustment loans from the World Bank and IMF. They also had to reduce their agricultural tariffs to very low levels […], which damaged local production."
More information
FAO Food Price Index: http://bit.ly/gC6TGF
Sources
FAO: http://bit.ly/MAtf3k
The Daily Star: http://bit.ly/Nieh62
The Star: http://bit.ly/NA02Gk