SOCIAL WATCH E-NEWSLETTER - Issue 101 - September 07, 2012
Published on Fri, 2012-09-07 10:58

Issue 101 - September 07, 2012
Eradicating poverty: from moral duty to legal obligation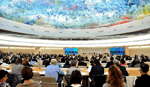 United Nations
Human Rights Council.
The United Nations Human Rights Council will discuss this month a series of "guiding principles" that would force countries to adress the consequences of international economic treaties and fiscal policies on poverty and human rights. If the proposal by Magdalena Sepúlveda, one of the UN Council Special Rapporteurs, is approved "eradicating poverty shall not only be a moral duty, but a legal obligation", acccording to Roberto Bissio, director of the Third World Institute (ITeM).
Read more
Philippines: Social Watch questions special funds included in the next budget
Social Watch Philippines is questioning some items in the 2013 budget submitted by the government to the Congress. The convenor of this national coalition of civil society groups, Leonor Briones, said there are lump sum appropriations called "special purpose funds", which did not provide any breakdowns.
Read more
India: Health sector in bad shape at Chhattisgarh, warns Social Watch
Central and local authorities' failures are responsible for the gloomy performance of the health sector in Indian state of Chhattisgarh, according to the most recent report produced by the local Social Watch coalition. The governments must be held accountable for the fulfillment of this Constitutional and basic right, but the citizens also have the responsibility to monitor its implementation, activist said while they released the study.
Read more
Burma regime removed 2,000 names from its blacklist, but fears persist
The names of some 2,000 people removed from a blacklist of foreign and Burmese nationals regarded as threats to the regime, among them Aung Htoo, former secretary of the Burma Lawyers Council (BLC, national focal point of Social Watch), was released by the office of President Thein Sein last week.
Read more
Finland has much to learn from Third World in family relations
Finland has certain problems: many people numb themselves with antidepressant drugs and alcohol, people bully and harass each other at work, a young man will fire into a crowd of people, a father kills his family. Finnish people should learn something from developing countries, wrote Johana Pohjola in an article published by Helsingin Sanomat daily newspaper.
Read more
Acquiring new skills to strengthen the Social Watch office in Benin
Assah Gustave, National Coordinator of Social Watch Benin, is participating in a two week capacity development initiative in West Africa. In 2012, he has attended over twelve trainings across the globe. This last one reunited civil society organizations from Cote d'Ivoire, Benin, Niger and Guinea. "It is now up to us to apply the best practices gathered from this training, to contextualise them and apply in Social Watch," he said
Read more

The contents of this publication are the sole responsibility of Social Watch and can in no way be taken to reflect the views of Oxfam Novib and the Coalition of the Flemish North South Movement - 11.11.11.