Congo, Dem. Rep.
Seulement le but de la lutte contre le VIH / SIDA est proche
La crise de l'économie congolaise a été occasionnée par l'effondrement du cours de cuivre et le choc pétrolier des années 1974, suivie de la zaïrianisation, renforcée par la mauvaise gouvernance et la forte poussée démographique déversant chaque année sur le marché de l'emploi un nombre important de personnes en âge de travailler. Cette crise est exacerbée par les pillages de 1991 et 1993 ainsi que les guerres de libération de 1996 et 1998. Il existe une grande pauvreté dans le pays et nous ne constatons aucune volonté observée dans la politique de création de l'emploi. Environ 80% de la population n'a pas accès ni à l'eau potable ni à l'électricité, 70% n'a pas accès aux soins primaires et le pays a l'un des plus forts taux de mortalité infantile. La constitution consacre l'enseignement primaire obligatoire et gratuit mais la matérialisation de ce principe continue à poser problème. Quant' a la promotion de genre, certes il y a des avancées, mais l'on constante encore que des filles et des femmes sont soumises à l'esclavage sexuel et à des mariages forcés, ou sont victime de harcèlement sexuel.
Published on Wed, 2013-01-30 10:08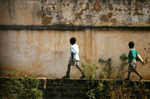 Children in Lubumbashi.
(Photo: J McDowell, Flickr.)
The crisis of the Congolese economy was due to the fall in copper prices and the oil shock of 1974, followed by the "Zairisation" of the country, and it was reinforced by bad governance and high population growth, which sends every year to the labor market a lot of people of working age.
This crisis was exacerbated by the sack of 1991 and 1993 and the liberation wars of 1996 and 1998. There is great poverty in the country and we do not find the least political will in terms of job creation.