brazil
Published on Tue, 2011-09-20 12:28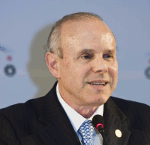 Brazilian minister Guido Mantega
(Photo: Adri Felden/Argosfoto)
Source: Eurostep
As part of the so called BRICS countries (along with China, India, Russia and South Africa), Brazil has established itself as one of today's most important emerging economic powers. The country has not only become increasingly involved in giving aid to African countries but is also expected to provide help to the European Union's (EU) indebted member states, as a means to overcome the current financial crisis, reported Eurostep based on news published by several media outlets.
Published on Fri, 2011-09-09 10:12
Source: Inesc
The economic contribution of mining companies to the countries where they operate, and where these funds actually go, should be of interest to the whole of society, especially movements and organizations that are fighting for social and environmental rights. Peru, the world's biggest producer of silver and the second of copper and zinc, signed last week an agreement with mining enterprises to levy a tax on the exceptional profits these companies are making.