Jordan
A long way to go to reduce poverty by 2015
Although resource poor, Jordan is one of the better off developing countries according to the Human Poverty Index. With the economy negatively affected by conflicts in the Middle East, the Government has had to create programmes to address high unemployment and public deficits. It also faces the challenge of how to empower not only the country's overwhelmingly young population, but also women who continue to have low political and economic participation despite advances in education.
Published on Tue, 2012-10-09 07:34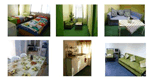 A room in the shelter in Amman
The Jordanian Women's Union (JWU, national focal point of Social Watch) vowed to continue offering services to abused women at its shelter in Amman despite a recent decision by the Ministry of Social Development to close it down, reported journalist Rana Husseini in an article published in The Jordan Times.
Published on Wed, 2012-01-18 15:46
Jordanian authorities are planning to abolish the regulation that prevents married women from getting their passports without their husband's endorsement, a move welcomed by Jordanian Women's Union (JWU), national focal point of Social Watch.
Civil Status and Passports Department (CSPD) director general Marwan Qteishat said the department is reviewing the 1969 Passport Law, which stipulates that a husband's consent is needed in order for his wife to obtain a Jordanian passport, reported The Jordan Times.
Published on Tue, 2011-08-09 07:26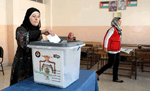 A Jordanian woman voting last year.
(Photo: Katarina Blomqvist/
WoMen Dialogue)
Source: The Jordan Times
The inequity between husbands and wives regarding the custody of children and the absence of a clear penalization of violence against women are some of the concerns that Jordan civil society organizations will submit to the CEDAW committee next year, before the government presents its official assessment to the panel, reported The Jordan Times this week.
Published on Fri, 2011-06-10 13:46
Sources
Report by Rana Husseini for The Jordan Times 2011
Report on Shorfa.com
"We are very optimistic," Amneh Zu'bi, president of the Jordanian Women's Union (national focal point of Social Watch), about the recommendations launched by the National Dialogue Committee (NDC) created by the government to reinvigorate the political life in the country. Among those suggestions, the NDC proposed an increase in female representation in Parliament and political parties.
»