Syrian Arab Republic
Gender equity: among the best of the worst
Poverty is strongly linked to human rights issues. Lack of economic growth, low human capacity and widespread corruption hinder poverty eradication efforts, while public participation to shape social and economic policies is very limited. Some attention, however, is being paid to women's empowerment in governmental decision-making.
Published on Mon, 2012-03-26 11:21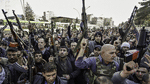 Members of Syrian security forces.
(Photo: FreedomHouse2/Flickr/CC)
The use of military action is intensifying in Syria, and the human rights and humanitarian conditions are deteriorating, warned the Arab NGO Network for Development (ANND) and the World Alliance for Citizen Participation (CIVICUS) in a joint statement. Despite the calls of Office of the High Commissioner for Human Rights, the Arab League and a UN special envoy, Syrian authorities have failed to halt the use of excessive force and violence, according to these organizations.
Published on Thu, 2011-09-15 10:01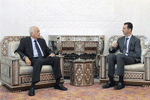 Nabil el-Araby, head of the League,
with Syrian President Bashar
al-Assad last Saturday.
(Photo: Government of Syria)
Source: International Federation of Human Rights
More than 170 national, regional and international civil society organizations sent an open letter to Dr. Nabil El Araby, Secretary General of the League of Arab States, urging the bloc to put pressure on Syria's government to effectively end the crackdown on peaceful opposition, release all political prisoners and provide compensation for victims.
Published on Wed, 2011-06-22 07:36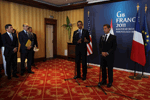 Press conference at the last G8
Summit. (Photo:L. Blevennec/
Presidency of France)
Source: The New Indian Express
While the G20, that includes the rich countries and the emerging ones, is getting more and more relevance, the Arab unrest and the developments in Libya and Syria have given a new meaning and purpose to the Group of Eight (G8) most powerful nations, according to Himanshu Jha, National Coordinator of Social Watch India. In a column published by The New Indian Express newspaper, Jha said that the G20 seems to have "turned into a hotbed of global decision-making" in charge of "the traditional economic agenda".
Published on Mon, 2011-05-16 07:10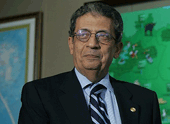 Amr Moussa, head of the Arab League
A hundred civil society organisations from 17 arab countries condemned this Sunday, in an open letter to the Arab League and to the heads of government of the region, the killing of over 800 peaceful demonstrators and the arrest of 9,000 in 16 Syrian cities since the 15th. March. The also urged the League "to show consistent [...] leadership in dealing with the situation in Syria".
»