India: Parliament panels can be very easily manipulated
Published on Wed, 2009-11-25 03:00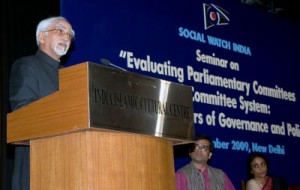 First published by The Times of India
NEW DELHI: In a scathing indictment of the parliamentary committee system, an independent report has said that leave alone acting as watchdogs, committees were vulnerable to manipulation. The report — Evaluating Parliamentary Committees and Committee System — prepared by the National Social Watch Coalition elaborates with examples how committees have been used by the government to serve its ends.
For instance, the government tried to use a parliamentary committee recommendation to "dismantle" the provisions of the Essential Commodities Act. "That recommendation was subsequently discovered to be fake; a large number of members of the committee were not even informed of the recommendations its chairman had made to the government," the report said.
In another instance, the report said one such committee recommendation was out of touch with "genuine needs and aspirations" of people and toed the line of the World Bank-IMF-WTO, suggesting dumping 50 million tonnes of foodgrain into the sea. "It is ironical in a situation where one-third of our fellow beings go to bed without proper food and sufficient calorie intake," the report said.
Terming the Indian committee system as "weak" compared to developed countries, the report said notwithstanding the quality of the committees — which are perceived by members as junkets — their numbers have seen drastic growth. The number of committees grew from 11 in 1953-1954 to 100. Though in the 14th Lok Sabha the number of committees is much lower at 31, the Coalition has recommended paring it down to 20.
Another major disadvantage is the per MP expenditure that has grown almost 75 times compared with the first Parliament.
Speaking on the occasion, Vice-President Hamid Ansari expressed confidence in the system even as he offered suggestions to improve it. "Their (parliamentary committee's) utility is underestimated and far removed from the common saying of `committees being a group of the unwilling, chosen from the unfit, to do the unnecessary'."
He added that while India had emerged as an excellent illustration of a successful parliamentary democracy at work, there was room for improvement. Ansari said the lack of ministerial participation in department related standing committees significantly curtailed the efficacy and outcomes of the committee process. There was need to build a political consensus so that the room for political and policy expression in Parliament for an individual member was expanded, he said.
More information available at http://www.socialwatchindia.net/