Poland: Equality Parade sabotaged by skinheads and neo-nazis
Published on Wed, 2011-06-01 07:55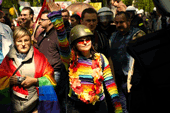 Gay parade in Krakow years ago.
(Photo: Krakow Informer)
Sources: New Poland Express, Associated Press report on LezGetReal website.
A parade against homophobia was sabotaged by skinheads and neo-nazis in the southern Polish city of Krakow on May 22nd resulting in violent attacks and one hospitalised person, reported New Poland Express online weekly magazine.
"The Equality March in Krakow was destroyed by protesters who turned up to ambush our peaceful demonstration," said Robert Biedron, a spokesman for the Campaign Against Homophobia, national focal point of Social Watch.
"Despite specific requests for police protection, as we feared violent confrontations, authorities refused to help escort us and subsequently we were attacked," denounced Biedron.
Anyway, the activist said that the situation in Krakow has improved since 2004, when the demonstrators were pelted with stones and bottles, reported the Associated Press news agency.
Four hundred demonstrators marched through the streets of the city centre, from Wolnica Square to main market, chanting 'I am your neighbour, human rights are our rights' and other slogans promoting gender equality and respect for sexual diversity.
But the parade was marred by right-wing protesters carrying anti-gay placards and shouting "This is Poland, this is Poland", according to the daily newspaper Fakt.
However, questions surrounding the level of protection provided by the police have been raised after three people were physical attacked, leaving one person requiring hospital treatment. Associated Press stated that police officers fired tear gas to disperse the group of some 150 attempting to block the march in Krakow.
Reports state that the most violent confrontation occurred outside the Old Market square's Cloth Hall where members of far right group National Revival of Poland (Narodowe Odrodzenie Polski) were waiting.
The group, which is allegedly against same-sex marriages, clashed with police who were forced to use pepper spray and batons to hold it back.
A report by Gazeta Krakowska claims that one neo-nazi retorted by extending his arm and chanting "Heil Hitler" after being cordoned off by police.
During the day, 14 people were arrested and detained, with 13 of which having been already charged.