Bahrain: Doctors freed on bail, but other prisoners still on hunger strike
Published on Fri, 2011-09-09 10:04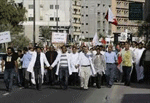 Bahraini doctors protesting in
the streets.
(Photo: Ahlulbayt News Agency)
Sources: Daily Tribune, Al Jazeera, Radio France International, The Washington Post
Bahraini and international human rights' organization efforts made progress this week when a special court freed on bail 20 doctors jailed because of political reasons, some of which had gone on hunger strikes, with more than 100 other prisoners. The situation of the fasters "is a matter of concern as it involves the lives of people," said Bahrain Human Rights Society (BHRS, focal point of Social Watch) Secretary General Dr Abdulla Al Durazi.
Before the court's decision, the Bahrain Independent Commission of Inquiry (BICI), created by King Hamad bin Isa Al Khalifa as part of an investigation into the popular revolt that took place in February, admitted to asking US doctor Sondra Crosby, along with a team that will examine the health of prisoners over the coming days, to visit the prisoners.
Crosby is noted for serving as the director of medical care at the Boston Centre for Refugee Health and Human Rights.
The hunger strike started 10 days ago this Friday. The doctors are being processed for attending to protesters in February.
"Hunger strike is a common tool used by people around the world to attain their set goal," Al Durazi. "This is a decision taken by individuals and we respect their decision. Moreover, these people who have taken such a decision are mostly (medical) professionals, and they know what they are doing," he added.
Al Durazi also expressed concern over the health of the strikers, as well as the state of their family members.
Security forces used tear gas, rubber bullets and birdshot early Thursday to break up crowds gathered to welcome doctors freed from prison after staging a hunger strike. "Down, down Hamad," they chanted, according to The Washington Post.
The BICI asked the expert to visit 84 prisoners on a hunger strike in Dry Docks prison and 17 detainees hospitalised by the Ministry of Interior after they refused to eat. Those numbers may have decreased with the liberation of the doctors, whose trial will resume on September 29.
»