UNDP 2010 report incorporates new Gender Inequality Index
Published on Fri, 2010-11-12 16:52
Introducing three new indices, the 2010 UNDP Human Development Report documents wide inequalities within and among countries, deep disparities between women and men on a wide range of development indicators, and the prevalence of extreme multidimensional poverty in South Asia and sub-Saharan Africa.
The report—The Real Wealth of Nations: Pathways to Human Development— finds that most developing countries made dramatic yet often underestimated progress in health, education and basic living standards in recent decades. Yet patterns of achievement vary greatly, with some countries losing ground since 1970.
The 2010 Human Development Report continues the Human Development Index (HDI) tradition of measurement innovation by introducing new indices that address crucial development factors not directly reflected in the HDI:
The Multidimensional Poverty Index (MPI)
The Report features a new multidimensional poverty measure that complements income-based poverty assessments by looking at multiple factors at the household level, from basic living standards to access to schooling, clean water and health care. About 1.7 billion people—fully a third of the population in the 104 countries included in the MPI—are estimated to live in multidimensional poverty, more than the estimated 1.3 billion who live on $1.25 a day or less.
The Inequality-adjusted Human Development Index (IHDI)
For the first time, this year's Report examines HDI data through the lens of inequality, adjusting HDI achievements to reflect disparities in income, health and education. "The HDI alone, as a composite of national averages, hides disparities within countries, so these adjustments for inequality provide a fuller picture of people's well-being," said Jeni Klugman.
The Gender Inequality Index (GII)
The 2010 Report introduces a new measure of gender inequities, including maternal mortality rates and women's representation in parliaments. "The Gender Inequality Index is designed to measure the negative human development impact of deep social and economic disparities between men and women," said Klugman, the lead author. The GII calculates national HDI losses from gender inequities, from the Netherlands (the most equal in GII terms) to Yemen (the least).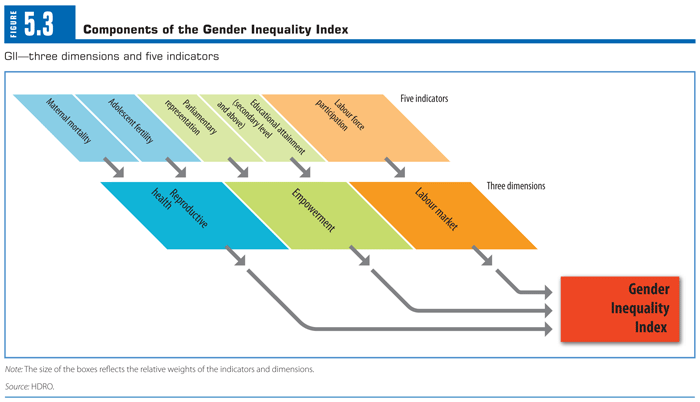 Social Watch has been a pioneer in monitoring gender inequities by developing its Gender Equity Index (GEI) that is based on information available that can be compared internationally making it possible to classify countries and rank them in accordance with a selection of gender inequity indicators in three dimensions, education, economic participation and empowerment.
»