Gender Equity Index
Published on Fri, 2010-11-12 16:52
Introducing three new indices, the 2010 UNDP Human Development Report documents wide inequalities within and among countries, deep disparities between women and men on a wide range of development indicators, and the prevalence of extreme multidimensional poverty in South Asia and sub-Saharan Africa.
Published on Mon, 2010-03-08 14:10
PRESS RELEASE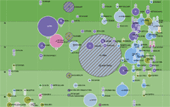 According to the information that arises from the Gender Equity Index 2009, launched on Tuesday in New York by Social Watch, those countries and regions where gender inequality was more serious are those that show less progress. By contrast, improvements were achieved on countries where inequality was not so serious. Besides the logical growth of the gap between countries or regions in relative better and worse situation, it seems clear that when it comes to fighting gender inequity, the starting point is significant.