SOCIAL WATCH E-NEWSLETTER - Issue 74 - february 17 , 2012
Published on Fri, 2012-02-17 08:26

Issue 74 - february 17 , 2012
The cancer of sub-standard housing is spreading round the world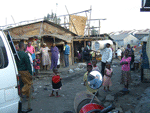 A slum in Nairobi, Kenia. (Photo:
khym54/Flickr/CC)
In spite of international commitments, 1,600 million people all over the world are living in deficient housing, and in the developing South 828 million lack adequate water and sanitation services. In the Social Watch Report 2012, experts warn that these problems are aggravated by inequalities between and within countries, privatization, the disappearance of communal property, migration, forced eviction, land speculation and climate change.
Read more
Zambia: A woman is the new Inspector-General of Police
Women for Change (WfC, focal point of Social Watch) and the Non Governmental Organizations Coordinating Committee hailed the appointment of Stellah Libongani as Inspector-General of Police.
Read more
Malaysia: 83,233% profit for a glass of water?
Penang-based Consumers Association of Penang has urged the Domestic Trade, Co-operatives and Consumerism ministry to immediately enforce the Price Control and Anti-Profiteering Act 2010 on eateries charging excessively for plain water.
Read more
New network focused on Mediterranean migration
The international research centre CARDET, focal point of Social Watch in Cyprus, and the consultancy firm InnovADE launched the Mediterranean Migration Network (MMN), with the aim to promote collaboration and exchange of good practices among public and private stakeholders active in the fields of migration and integration.
Read more
Tunisia: Civil society focuses on ways to promote post-Revolution media
The situation of media in post-Revolution Tunisia and ways to promote it were discussed at a meeting attended by National Constituent Assembly members, representatives of the Tunisian General Labour Union, the National Independent Council for Information and Communication and the Tunisian League for Human Rights (LTDH, part of the Social Watch national coalition).
Read more
Made possible thanks to the funding and support of the European Union and Oxfam Novib.

The international secretariat of Social Watch also receives funding and support from the Coalition of the Flemish North South Movement - 11.11.11.
The contents of this publication are the sole responsibility of Social Watch and can in no way be taken to reflect the views of the European Union, Oxfam Novib and the Coalition of the Flemish North South Movement - 11.11.11.