Kenya
Reaching a turning point
In 2010, after many years of struggle, Kenyans finally managed to negotiate the groundbreaking 2010 Constitution. Its focus on basic rights, participation, accountability to citizens and public service provides the basis for defining the role of the State as central to constructing an economy that fulfils the promise of equity, participation and basic social and economic rights. By making popular participation and service delivery the core politics of sustainable development, the people will transform themselves into a new revolutionary force. In environmental terms, the new Constitution is also a step forward since it establishes the right of every Kenyan to a clean and healthy environment.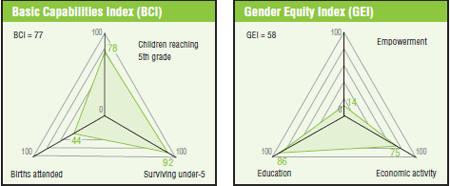 Published on Mon, 2012-09-17 15:31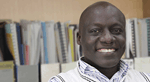 Philip Thigo (Photo: Linda Essner)
Philip Thigo, 36, grew up in Kibera, the largest slum in Nairobi. After studying at Princeton and working abroad, he is now back where it all began. "I realized that my skills were needed in Kenya and decided to go home", he said. Now he works to strengthen democracy and poor people's rights with the Social Development Network (Sodnet) , an NGO working to mobilize and channel social engagement, focal point of Social Watch in that African country.
Published on Thu, 2012-08-23 08:49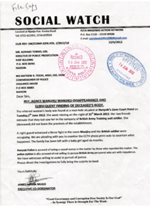 James Maina Mugo, a local member
of Social Watch, sent this letter to
the Kenyan authorities
Kenyan police did not pay due attention to the disappearance on March 31 of Agnes Wanjiru-Wanjiku, a 21-years old woman from a hotel in the town of Nanyuki. Her body was found on June 5 by a cleaner in a septic tank behind the hotel. Despite the pressure by relatives and civil society organizations headed by Social Watch, the authorities are responding very slowly to the growing clamor from the grassroots that accuse British soldiers and fiercely criticize military cooperation agreements between Nairobi and London.
Published on Fri, 2012-03-16 10:14
In terms of gender equity Kenya places itself above the Sub-Saharan African average but below some of its neighbours.
Published on Wed, 2012-02-01 08:18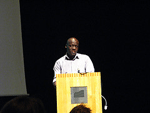 Philip Thigo. (Photo: Indigo Trust)
The Indigo Trust, a foundation based in London that funds technology-driven projects to bring about social change in African countries, awarded the Social Development Network (SODNET, focal point of Social Watch in Kenya) a grant of £30,750 that acknowledges its consistent work to improve the lives of ordinary citizens through its Infonet programme.
Published on Wed, 2011-06-15 23:55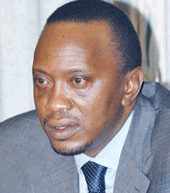 Minister for Finance Uhuru Kenyatta.
Sources
Sodnet: http://bit.ly/iQaDPT and http://bit.ly/kUE248
Kenyan citizens will have time until the end of this month to participate in the public discussion of the budget statement delivered to the National Assembly by the Ministry of Finance. The Constitution orders the parliamentary budget committee to process the representations of the people and to take into account their recommendations. The Social Development Network (SODNET, national focal point of Social Watch) has committed itself to play an important role delivering information to the public about the budget in an open fashion.
Published on Tue, 2010-08-31 09:40
Civil society organizations, including Social Watch's focal point in Kenya, SODNET, developed a web platform to monitor the development of the country's constitutional elections that took place on 4 August 2010. This was the second attempt to give Kenya a new constitution after the failure that provoked post election violence in 2008 killing thousands, displacing 300,000 and affecting all Kenyans.
Published on Thu, 2010-08-05 16:12
Source: SODNET
SODNET, the focal point of the Kenya Social Watch coalition, is part of the civil society team that has been actively monitoring Kenya's constitutional referendum on August 4, 2010, which is a key step towards the consolidation of democracy in the country.
Published on Tue, 2010-06-22 11:42
June's "Spotlight on" is dedicated to Social Watch Kenya, which in August will be holding the next Social Watch regional capacity building workshop.
»