El Salvador
Salvadoran Civil Society Organizations struggling to focus, participate and obtain financing to achieve the SDGs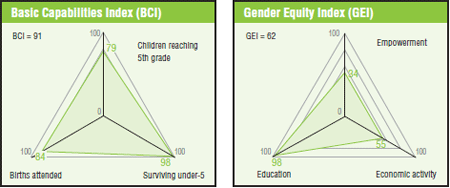 Published on Thu, 2016-06-30 23:11
Tax evasion and environmental vulnerability have been identified by Salvadorean civil society as the major obstacles to achieving the SDGs in El Salvador. Tax evasion in 2013 was estimated at $1.5 billion, more than one fourth of total government revenue. At the same time, the annual average of losses due to extreme weather events in the XXI century so far is "equivalent to almost 60 percent of the annual average of its public investment". It is urgent to take a development path that protects Nature from further degradation and strengthens ecosystems to reduce environmental vulnerabilities that mostly affect the poorest sectors of the population.
Published on Wed, 2014-05-14 14:17
Social Watch El Salvador has been executing a project called "Awareness and advocacy as tools for the financial education of the Salvadoran population and demanding a fair legislative framework for financial products." The project has the objective of contributing to the generation of public opinion on abuses perpetrated by financial institutions that have an impact on the population generating negative impacts on poverty and human rights conditions.
Published on Fri, 2012-12-14 08:42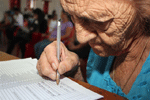 A Salvadorean woman learns to
write and read. (Photo: MINED)
The first leftist government in El Salvador has been devoted, in the last three years, to support marginalized populations such as the elderly, women, children and the rural population, says the Salvadorean contribution to the Social Watch Report 2013. Improvements in health and education are apparent, but structural changes are needed to ensure the sustainability of the social programs, including a tax reform to finance them with the national budget without relying on external funds.
Published on Tue, 2011-12-20 07:40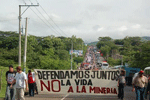 Demonstration against mining
in El Salvador.
(Photo: Upside Down World)
Hundreds of civil society organizations from all over the world are calling the World Bank and the International Centre for Settlement of Investment Disputes (ICSID), associate to the institution, to dismiss the demand of compensation initiated by Canadian company Pacific Rim against the Government of El Salvador, which forbade a cyanide-leach gold mining project presented by the firm.
Published on Mon, 2010-02-22 09:45
In this edition of Spotlight On… we will travel to Central America, where the national Social Watch coalition in El Salvador has succeeded in monitoring economic, social and gender rights in the country from diverse perspectives.
Source:

. Published on Tue, 2005-04-12 16:35
»