Bahrain Human Rights joint statement
Published on Tue, 2013-08-06 00:00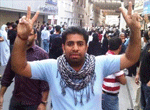 Photo: Bahrain Center for
Human Rights
In the past few weeks, the human rights situation in Bahrain has rapidly deteriorated ahead of planned mass protests on August 14th. With many of the country's most prominent Human Rights Defenders behind bars, local NGOs have inadequate resources to keep up with the unfolding situation, and it is challenging for them to ensure the safety of their members.
Bahraini HRDs should not be left to stand alone. We urge international human rights organizations to attempt to visit Bahrain over the coming week, in order to document and monitor ongoing protests, especially on August 14 when Bahrain is expected to come under lockdown. The government has already declared that all protests in the capital Manama are banned.
International human rights organizations have done a good job of highlighting the human rights situation in Bahrain, though their physical presence in the country has been lacking due to a state policy of controlled access. Nonetheless, their presence is important, as witnesses and in solidarity with those fighting for justice, human rights, and democracy.
We call on mainstream media networks to dedicate particular attention to the situation in Bahrain in the build up to August 14 and to send journalists into the country. What happens in the coming week could be critical.
To the Government of Bahrain's closest allies; Mr. David Cameron, Prime Minister of the United Kingdom and Mr. Barack Obama, President of the United States of America, we urge you to remain neutral, if not supportive of the peoples' right to self-determination. This is not a call for intervention, but rather we urge you to live up to claims of ethical foreign policies that take human rights into consideration and to end your active support of the government of Bahrain.
Finally, we call on the United Nations and its Special Rapporteurs to be proactive and to reiterate the rights of Bahrainis to free speech, freedom of assembly, the right to adequate medical care, and to pressure the authorities to refrain from using force, particularly tear gas and birdshot, ahead of August 14. Public statements reminding those who are responsible of guaranteeing these rights are needed as well as activating direct channels with officials in such positions.
For the past two and a half years, the Bahraini regime has failed to realize its pledges to implement both the Universal Periodic Review and Bahrain Independent Commission of Inquiry recommendations. Domestic and international accountability mechanisms have so far failed, and Bahrainis have decided that August 14 is another step in the current struggle for justice.
We, the undersigned, will be on the ground in Bahrain during this period to monitor and observe the human rights situation. We hope that you will commit time, resources, and effort to support HRDs in the country in any capacity.
Signed:
Bahrain Center for Human Rights
Bahrain Human Rights Society
European-Bahraini Organization for Human Rights
Bahrain Watch
Bahrain Youth Society for Human Rights
Bahrain Human Rights Observatory