Bahrain: BHRS head to be accused by the regime
Published on Wed, 2011-05-25 06:07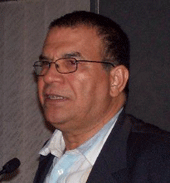 Abdullah al-Durazi, head of BHRS.
(Photo: Habib Toumi's blog)
Sources: Financial Times, Human Rights Watch, Bahrain News Agency, UPI, Gulf News, Tehran Times.
Bahraini government questioned Abdullah al-Durazi, who was heading the Bahrain Human Rights Society (BHRS), the oldest body tracking human rights abuses, when its board was disbanded last year. The authorities accused Al-Durazi of taking part in protests and disseminating false information, though no formal charges have been filed yet, reported the Financial Times on Thuesday.
In September 2010, Bahraini authorities dissolved the board of directors of BHRS for mostly alleged administrative and legal "irregularities" and "co-operating with illegal organizations", according to a Human Rights Watch report. The organization had published allegations of torture relating to the 23 detained Shi'a activists.
BHRS, national focal point of Social Watch, was set up in 2002 and was initially chaired by Dr Sabika Al Najjar as president and Salman Kamaluddin as vice president, two former political prisoners and exiles who had returned to Bahrain in 2001, according to UAE journalist and blogger Habib Toumi.
In December 2005, BHRS became the first NGO in the Arab world to carry out a prison inspection. The party visiting Jaw included activists, doctors, and psychiatric nurses with the purpose at examining the facilities, the treatment of prisoners and looking for any signs of abuse. BHRS has now links with lots of human rights organisations abroad.
Meanwhile, human rights situation continues bleak in Bahrain. Two participants in the protests that took place since February were sentenced to death by the National Safety Court of First Instance this week. Seventeen people face the same penalty for the murder of a policeman and a Pakistani citizen, and their trial was postponed on Wednesday.
Nine civilian people were condemned to 20 years behind bars in military courts.
The head of the Bahrain media authority, Sheik Fawaz bin Mohammad al-Khalifa, said Monday that 515 detainees were released since the State of National Safety was proclaimed in February, some of them on humanitarian grounds, being patients, and others because they completed "their custody period".
Bahrain has allegedly arrested and abused local journalists working for foreign news agencies in an escalation of the crackdown, wrote Simeon Kerr, Financial Times correspondent in Dubai. Local journalists had been arrested and beaten since the authorities violently cleared pro-democracy protests in mid-March, but this is the first time that journalists working for overseas media are targeted.
Mazen Mahdi, a photojournalist with the German press agency DPA and Defense News, and Nazeeha Saeed, a reporter for France24 and Radio Monte Carlo, were detained for hours and questioned about their reporting. Both said they were blindfolded, cuffed and beat during their detention, and released late Sunday and early Monday. Reuters' Manama-based correspondent, Frederik Richter, was expelled from Bahrain this month.
Local journalists at Al-Wasat, the country's only independent voice before changes made under government pressure last month, have also been arrested. A founder of the newspaper, businessman Kareem Fakhrawi, is one of four people who have died in detention since the clampdown began. Mansoor Aljamri, a former exile who edited the paper, is on trial for publishing false news in late March, reported the Financial Times.
Two former members of parliament from the main Shia opposition group, al-Wefaq, remain imprisoned.
»