CELS awarded Gruber Prize for human rights work
Published on Mon, 2011-08-01 08:05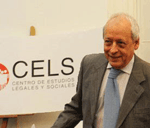 Horacio Verbitsky, President
of the CELS.
Source: CELS.
The Center for Legal and Social Studies (CELS), the focal point of Social Watch in Argentina, has been awarded the Gruber Foundation Prize for Justice. This annual award has been in existence for ten years; it is given to people and organizations in the human rights field in all parts of the world.
The prize is in recognition of the work the CELS has done to investigate, report and document cases of people who were forcibly disappeared during the last dictatorship in Argentina (1976-1983), and also for its efforts since democracy was restored to have those responsible for these crimes brought to justice.
In 2006 the Argentine laws granting impunity for human rights violations were revoked and since then more than 360 cases have come before the courts and 1,750 people from all over the country have been charged.
Horacio Verbitsky, the President of the institution, said, "This prize is a homage to the founders of the CELS and to the new generations. It will encourage us to continue our work to obtain justice for human rights violations, and also strengthen us in our struggle to make human rights effective in democracy."
The prize is in recognition of the work the CELS has done and is still doing to document human rights violations that took place under the last dictatorship and pursue the perpetrators in the courts. The organization has also helped to get the laws of due obedience overturned and put an end to presidential pardons.
Another aspect of the Gruber Prize is that it will be an incentive to publicize the Argentine experience. Verbitsky said, "We intend to share what we have learned in our search for truth and justice with other countries that have undergone similar episodes".
The Gruber Foundation awards this prize to individuals and organizations that have demonstrated courage and commitment to overcome obstacles in their efforts to obtain justice for groups that are suffering discrimination for political or cultural reasons.
The Prize of 100,000 dollars will be handed over to the President of the CELS in a ceremony in Philadelphia in the United States on 6 October.
The four other winners of the 2011 edition of the prize were announced in July. They are Barbara Arnwine, a member of the Lawyer's Committee for Civil Rights Under Law, for defending and promoting civil rights and gender equality in the United States; Morris Dees for his work in racial equality especially in the South of the United States; the Association for Civil Rights in Israel for promoting the rights of vulnerable communities in that country and in the occupied territories; and the Kurdish Human Rights Project for defending civil and religious rights in Kurdish regions in various countries including Turkey, Iraq, Iran, Syria, Russia and Armenia.