The wheel turns: BRICS to aid Europe
Published on Tue, 2011-09-20 12:28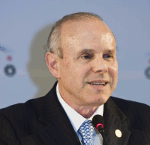 Brazilian minister Guido Mantega
(Photo: Adri Felden/Argosfoto)
Source: Eurostep
As part of the so called BRICS countries (along with China, India, Russia and South Africa), Brazil has established itself as one of today's most important emerging economic powers. The country has not only become increasingly involved in giving aid to African countries but is also expected to provide help to the European Union's (EU) indebted member states, as a means to overcome the current financial crisis, reported Eurostep based on news published by several media outlets.
Representatives of BRICS' governments will discuss next weekend in Washington, on the occasion of the 2011 World Bank-IMF Annual Meetings, "how to help the EU get out of this situation," Brazilian Finance Minister Guido Mantega announced last week, in an interview with World Policy Report.
With several European economies, such as Greece and Portugal, struggling with huge debts, government austerity measures and high unemployment rates, the EU's economic and financial situation has recently come under significant pressure.
In light of their strong exports and high growth rates, the BRICS countries have thus evolved as potential creditor nations to provide financial assistance to Western nations.
BRICS nations would likely increase their holdings of Euro-denominated bonds as a way to provide support for the region's spreading financial problems, according to Merco Press (South Atlantic News Agency).
"The political interest [of the BRICS] is clear — to appear publicly as contributors to market stability and thereby demonstrate to what extent the balance of the global economy is changing", reported Valor Economico, Brazil's top business newspaper.
Due to their growing economic power, the BRICS have significantly expanded their development cooperation with African countries. Whilst Western financial support has mainly focused on conflicts in the Middle East in recent years, neglecting the needs of other regions, the BRICS have been able to lift a significant number of people out of poverty, development economists agree.
As a former Portuguese colony, Brazil's investment in Africa has been mainly concentrated in Portuguese-speaking countries, such as Angola and Mozambique, focusing on mining, infrastructure and oil and gas production.
"There is no doubt that the total amount of Chinese investment and international cooperation in Africa is much larger than Brazil's. But Brazil's engagement with Africa may have a greater positive impact on sustainable development, as the specifics of Brazil's development cooperation in Africa differ from other partners", said Adriana de Queiroz, an executive coordinator at the Brazilian Center for International Relations (CEBRI).
"Beyond their ethnic and cultural ties, Brazil and African countries face similar problems, climate zones, soil and economic realities and can learn from each other", the experts state in an interview with World Politics Review. Such investment not only represents a great opportunity to display Brazil's growing economic significance but constitutes "an important opportunity for the Brazilian private sector and may increase world food production", Queiroz concluded.
More information