Benin
DES MOYENS ET DES FINS POUR UN CADRE DE DEVELOPPEMENT POST 2015 EFFICACE
Les OMD n'ont guère induit les changements et résultats escomptés notamment au Bénin. …le modèle actuel de croissance alimentée par le haut ne bénéficie pas assez à la population. En effet, les bénéfices mesurés en termes de réduction de la pauvreté, santé maternelle, et survie des enfants sont bien loin de ce que les Africains sont en droit d'attendre . « Allons à un nouveau cadre de développement plus réaliste avec des objectifs réduits et efficaces ».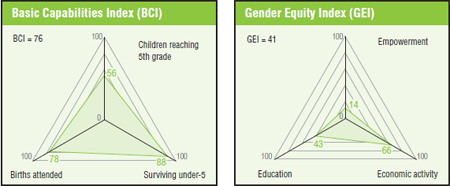 Published on Thu, 2018-09-13 20:03
In Benin the Social Watch-Benin network set up four working groups (social, economic, environmental and governance) to draft a parallel report to the government's Voluntary National Review which reviewed 33 priority targets selected from each of the six SDGs to be reviewed at the HLPF in 2018. Indicators were available for only six of these. The network concludes that while the SDGs "have been incorporated in the government's Programme of Action and the projects initiated by the development cooperation partners" the lack of "an efficient information system able to illustrate about implementation" risks resulting in "bitter observations, as has happened with other international commitments and conventions".
Published on Mon, 2018-07-16 00:00
The experience of Voluntary National Reviews and of Civil Society shadow (or spotlight) reporting.
How it is key for meaningful participation and accountability
The side event "SDG Implementation at National Level: What's the Point of National Reports?" was held on July 17 in New York, during the meeting of the High Level Political Forum of the UN. The debate focused on voluntary national reports (VNRs) and parallel "shadow" or "spotlight" reports generated by civil society organizations (CSOs) on progress towards the Sustainable Development Goals (SDGs).
Published on Thu, 2014-05-15 09:21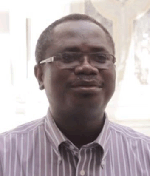 Gustave Assah.
The participants in the civil society strategy meeting on monitoring and accountability organized by Social Watch last february in Montevideo were asked about how they personally work and relate with the huge task of making the powerful accountable. Here is what they said:
Published on Fri, 2012-11-23 14:25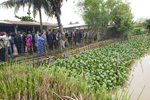 Sustainable agriculture project
in Benin: the poorest people not
allways enjoy the benefits.
(Photo: Eskinder Debebe/UN)
"The MDGs have hardly induced changes and outcomes in Benin" concludes the report from the Social Watch coalition in this West African country, because "the current model based on economic growth at the top does not benefit the majority of the people".
Published on Wed, 2012-09-05 14:57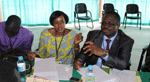 Gustave sharing ideas with
colleagues in a group. (Photo:
West Africa Civil Society
Institute)
Assah Gustave, National Coordinator of Social Watch Benin, is participating in a two week capacity development initiative in West Africa. In 2012, he has attended over twelve trainings across the globe. This last one reunited civil society organizations from Cote d'Ivoire, Benin, Niger and Guinea. "It is now up to us to apply the best practices gathered from this training, to contextualise them and apply in Social Watch," he said
Published on Fri, 2012-03-16 10:08
In terms of gender equity Benin lags well behind the Sub-Saharan African average, but some of its neighbours are even in a worse condition.
Published on Tue, 2012-02-07 07:56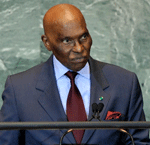 Abdoulaye Wade. (UN Photo)
The civil society organizations gathered in Social Watch Benin invited the incumbent President of Senegal, Abdoulaye Wade, who is seeking a third term in office, "to take a peaceful retirement," the network said in a statement published on Thursday.
Published on Fri, 2009-06-05 09:47
This month´s "Spotlight On…" column will profile Social Watch Benin, currently one of the most vibrant groups of Watchers in francophone Africa. As a signal of its success, the Beninese coalition was featured as one of the case studies in the new Social Watch publication "Learning from Successful Experiences", and in addition will play host to the next meeting of the Social Watch Coordinating Committee, programmed for July 17-19 in Cotonou.
Published on Mon, 2008-02-11 09:34
Social Watch Benin has just launched her website. Through this bilingual English and French website Watchers will find out about the work and achievements of Social Watch Benin. This site fulfils a strong desire of the entire membership of the Social Watch Bénin network and aims at making visible all information and inputs susceptible of reinforcing the network's synergy and the actions for social equality and the achievement of the MDGs.
Published on Tue, 2008-01-29 11:31
Next Thursday, January the 31st, Social Watch Bénin will be launching de Social Watch Report 2007 together with the Alternative CSO's Report on the Millenium Development Goals (MDGs). The launching will take place at the Palace of Congress, in Cotonou.