Bahrain: Trial of 21 political prisoners transferred to a civilian court
Published on Thu, 2012-05-03 09:57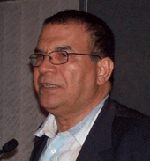 Abdullah Al-Deerezi.
Human rights activists welcomed this week a decision by Bahrain's highest court to order a retrial in the case of 21 men accused of "trying to overthrow the monarchy" and "having links to a foreign terrorist organization".
Bahrain Human Rights Society secretary-general Dr Abdulla Al Deerazi said he did not believe that the Cassation Court had delivered the ruling influenced by the current wave of street protests.
"The retrial is a good decision as it shows there were some doubts in the preliminary sentences. The defendants raised the issue of extracting confessions under torture and ill treatment," stated Al Deerazi.
The authorities of Bahrain have announced a retrial for hunger-striking Abdulhadi al-Khawaja and 20 other political activists jailed after the Gulf state's Arab spring protests last year.
The Cassation Court decision casts doubts on the verdict issued by the National Safety Court last year, and means that the case will now be heard in a civilian court.
One of the defendants was released from custody after completing his sentence, but the others will remain in prison until the new verdict.
Eight of the men, including Al-Khawaja, who has been on hunger strike for more than 80 days and is in a military hospital now, were sentenced to life imprisonment.
"The Bahrain Independent Commission of Inquiry emphasised giving defendants a just trial and granting them a retrial is a very positive sign," said Bahrain Human Rights Watch Society secretary-general Faisal Fulad.
More information

FIDH: http://bit.ly/IB0cR0
Source

Gulf Daily News: http://bit.ly/JsW5Ql