Social Watch India: Workshops on BCI, GEI and Muslim disadvantages
Published on Thu, 2012-05-10 13:58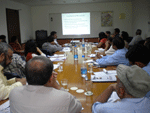 Photo: Social Watch India
Social Watch India organized two half-day workshops, the first on the Basic Capabilities Index (BCI) and the Gender Equity Index (GEI), and the second on National Minorities Commission.
Social Watch (SW) international network has been preparing the BCI and GEI for last few years. Social Watch India has been collaborating with both global surveys.
Based on the same methodology developed by SW at the international level, Social Watch India is preparing the BCI and GEI at sub-national level. As these assessments are being prepared for the first time, the Indian network faces several challenges related to methodologies, data collection and preliminary results.
To discuss those topics, Social Watch India organized a half day workshop on BCI & GEI on 31 April.
On the other hand, Social Watch India prepared a perspective paper on National Minorities Commission as an instrument for addressing Muslim Disadvantage: A Performance Assessment Report, prepared by Dr. Richa Singh. Another workshop was held to discuss and disseminate the findings of the paper on 1 May.
The major insights from the workshop would be incorporated in the final version of the indexes as well as in the paper, and would be released subsequently at the national level.
Source
Social Watch India: http://bit.ly/Ji1v1Y