India: Majority of legislators in the State of Karnataka have no questions to ask
Published on Tue, 2012-08-14 08:47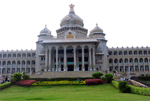 Photo: Karnataka Legislative
Assembly.
In an indication of elected representatives' apathy to people's causes, 129 of the 224 legislators in the Indian State of Karnataka have never posed a single question during the Legislature sessions held last year, revealed the Karnataka Social Watch Report 2012, according to The Hindu newspaper.
Worse, only six legislators attended all the 31 Assembly sessions while seven members attended the sessions on 30 days. In all, 3,464 questions were raised by the legislators of both the Houses of which 2,194 questions were posed in the Legislative Assembly.
This was revealed by the Karnataka Social Watch Report 2012 on the question hour analysis of 2011 Karnataka Assembly, released last week.
Among important leaders, who have drawn blank in the question hour are the former ministers A.B. Maalakaraddy, D.K. Shivakumar, G. Parameshwara (Kerala Pradesh Congress Committee president), S.N. Krishnaiah Setty, R. Roshan Baig, Laxman Savadi, B. Ramanath Rai and Baburao Chinchansur.
The data also revealed that the first-time ministers, who were sworn into the Jagadish Shettar cabinet, D.N. Jeevaraj, Appachu Ranjan and C.T. Ravi, did not use the question hour in 2011. Janata Dal (Secular) leader B.Z. Zameer Ahmed Khan and Youth Congress president Krishna Byregowda are among other prominent leaders not having posed questions.
The legislators, who also have interest in mining, including Santosh Lad (Kalghatgi), Nagendra B. (Kudligi), T.H. Suresh Babu (Kampli) and G. Somashekara Reddy (Bellary City) also did not have any questions in the Assembly.
The report also identified the departments that received questions from the legislators of both Assembly and Council. While Primary and Secondary Education Department received 122 questions, highest among all the departments, the Department of Science and Technology received the least — one question from a Congress legislator.
"We had to get the information through various sources. The proceedings of the State legislature can be put on the website like the way it is done for Parliament," said Vasudeva Sharma, executive director of Child Rights Trust, during the release of the report. "Voters should question their legislators for having raised no questions at all."
One of the researchers involved in the project said that this meant that legislators or ministers were not active at all. "They did not use the question hour where government policy could have been made known on the floor of the House. Some leaders such as the Leader of Opposition Siddaramaiah did not pose any questions, but took part in a number of discussions," he explained.
Source
The Hindu: http://bit.ly/NzJ0YS