Thailand: The energy inequality makes development unsustainable
Published on Thu, 2013-03-14 21:37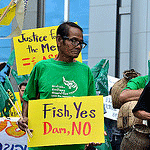 Thai villagers protesting
to stop the Xayaburi Dam.
(Photo: internationalrivers.org)
The approval of the 2010-2030 Energy Development Plan in Thailand will promote energy inequality among the population and the poorest will bear the heavy environmental costs of power plants, coal plants and even nuclear reactors, undermining the achievements of the MDGs that the country claims to have achieved by 2015.
Academics, civil society organizations and local community organizations have expressed their opposition, proposed a new plan based on a holistic approach to energy planning and urged to shift from the strong dependency on fossil fuel to use energy more efficiently using sources of renewable energy.
The latest Energy Development Plan (2010-2030), elaborated mainly by the Electricity Generating Authority of Thailand, is strongly influenced by the demands of the automotive and foundry industries, which will lead the national development plan for the next 20 years.
Under the latest Plan, Thailand will spend 200 million baht (USD 6,510.41 million) a year in the construction of the plants. Moreover, the electricity generation sector is a monopoly business. But more importantly, the current construction of power plants tends to be large scale and these plants are the largest producers of carbon dioxide. Therefore, the construction of new power plants has the opposition of local communities, while the existing ones still cause negative impacts on the health of communities and their livelihoods.
But complaints fall on deaf ears. Existing power plants are causing negative impacts on the health of the local population and the environment, while the establishment of many new power plants, especially the most polluting ones, is planned to be performed in environmentally sensitive areas, particularly along the south coast and near major rivers, threatening the livelihoods of many communities. To these high environmental and social costs we must add the economic costs.
Source: 2013 Thailand Social Watch Report
http://www.socialwatch.org/node/15820