Nouvelles de Social Watch - Nouvelles 133 - 7 juin, 2013
Published on Thu, 2013-06-06 17:06

Issue 133 - June 7, 2013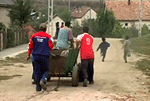 Roma in Hungary. (Photo: OHCHR).
In Hungary a system has developed that is disrespectful to both the rule of law and constitutionalism. Hungary has turned against the democratic ideals of the world, civil liberties are restricted and today it is on a declining economic path. Political life is characterized by a murderous policy divergence, confrontation and a dangerous ideology-based polarization.
The majority of the society is struggling with unjust and unequal relationships without even the hope offered by mutual solidarity. Hungary's international prestige, integrity and credibility are now at its lowest point.
Social Watch Press Release: High level panel proposes to the UN to put mega business, not people, at the center of development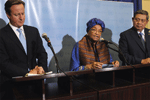 Panel co-chairs Yudhoyono, Cameron
and Sirleaf. (Photo: UN)
Social Watch expressed deep disappointment with the suggestions of new development goals to replace the MDGs proposed today to the United Nations by a High Level Panel.
The document is titled "A New Global Partnership" and the panel claims that, in preparing it, "we heard voices (...) from over 5000 civil society organizations working in about 120 countries" and "we also consulted the chief executive officers of 250 companies in 30 countries, with annual revenues exceeding $8 trillion".
Read more
Post-2015 High-Level Panel Report Marginalises the Least Developed Countries (LDCs)
The much awaited High-Level Panel (HLP) Report on the Post-2015 development agenda is deeply disappointing for LDC civil society. While setting the ending of extreme poverty as a core objective, and an aspiration to ensure every person achieves a basic standard of well-being, it ignores existing agreements that focus particularly on the world's poorest and most marginalised LDCs.
The HLP Report ironically gives no "special attention" to the LDCs, as called for in previously agreed development efforts. It is even regressive in the spirit of global partnership.
Bangladeshi right groups criticized UN HLP Report on Post 2015 Development Agenda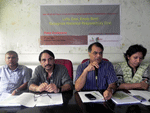 Speakers demanded debt cancellation
and democratic space for LDCs.
(Photo: SW Bangladesh).
Civil society right groups network EquityBD and VOICE in a press conference held at the city's national press club criticized United Nation High Level Panel (UN HLP) report on post 2015 agenda terming it "as lofty goal and empty bowl" and said that the report is in fact a far short in transforming economies.
The UN HLP report has just published on 30th June 2013 in New York. The UN HLP was co chaired by UK Prime minister Davide Cameron, Indonesian President Dr. Susilo Bambang and Liberian President Alen Johnson Sirlef. Moderated by Rezaul Karim Chowdhury, chief coordinator of Equitybd, the position paper was read out by Ahmed Swapan Mahmud, executive director of Voice.
Read more
G77: Austerity programs found sapping democracy, human rights in the Middle East
Participants at a recent event in Washington, D.C. addressed the impact of IMF-recommended economic policies, including austerity measures, on human rights in the Middle East.
The event, held on the occasion of the Spring meetings of the International Monetary Fund and the World Bank, at the World Bank Headquarters, was organized by Arab NGO Network on Development and Third World Network. It looked at the experience of Egypt and other countries in the region, in the light of global experiences and trends regarding austerity measures.
The human rights implications of these measures are increasingly queried. The International Monetary Fund has come under fire for advising several member countries to implement such policies while they are still suffering the after-shocks of the worst financial crisis of the last 75 years.
Webinar: Tools for accountability and advocacy
Are you looking for tools to support your advocacy work? The UCLA World Policy Analysis Center (WORLD - has collected data on laws and policies in 193 countries relevant to the priority objectives of Social Watch and member groups, including gender equity, the eradication of poverty, and factors that affect poverty, such as labor conditions and educational policies.
This June, WORLD is offering a unique opportunity for member organizations of Social Watch to learn about this new data source and its potential uses through an interactive webinar and discussion with Dr. Jody Heymann, Dean of the UCLA Fielding School of Public Health and Director of the World Policy Analysis Center, and colleagues at the Center. This webinar will provide an overview of the new data available through WORLD and how these can be accessed, as well as sample findings in the areas of:
poverty reduction policy (e.g. minimum wage, cash benefits),
gender equity protections (e.g. constitutional guarantees of equity, disparities in the minimum age of marriage for girls and boys),
and other key areas such as working conditions and education policy.
Webinars will take place in English, French, and Spanish.
To register for a webinar please complete the form at this link: http://goo.gl/KPjrc.
For a full description of the webinar and more information about the World Policy Analysis Center please click here.
Made possible thanks to the funding and support of the European Union and Oxfam Novib.

The international secretariat of Social Watch also receives funding and support from the Coalition of the Flemish North South Movement - 11.11.11.
The contents of this publication are the sole responsibility of Social Watch and can in no way be taken to reflect the views of the European Union, Oxfam Novib and the Coalition of the Flemish North South Movement - 11.11.11.