Peter Niggli: The critical voice on Swiss development cooperation
Published on Wed, 2015-09-02 11:36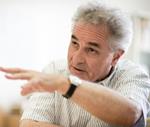 Photo: Raffael Waldner,
Tageswoche
Peter Niggli was honoured by the Swiss development community with a farewell party last August 27 in Bern, as he retired after 17 years at the helm of Alliance Sud, the Swiss coalition of development NGOs. Parliamentarians, government officials, journalists and NGO colleagues expressed their recognition. Speakers highlighted Niggli's contribution to the 2011 Swiss decision to increase ODA to 0.5% of GDP, which is a major step forward even if short of the 0.7 international target.
On behalf of the Social Watch network, of which Alliance Sud is the Swiss member, Roberto Bissio summarised Niggli's contribution as having taught a lesson in commitment.
Peter Niggli, a lesson in commitment
By Roberto Bissio
I belong, like Peter, to that generation of people that erupted into social and political life in 1968. We wanted to radically dissociate ourselves from the legacy of the previous generations. We wanted nothing less than complete revolution and we wanted it fast.
In 1969, the famous anthropologist Margaret Mead, then 68 years old and about to retire, gave three famous conferences on "Culture and Commitment." She said: "Young people sometimes turn to me, when we have been co-operating vividly in a goal we share, and say, "You belong to us." This I felt to be a temptation which must be resisted at all costs, especially in a country where youth, in every form, is a tempting refuge for the middle-aged and aging. So I used to reply, "No, I do not belong to your generation. You think I do because you are currently in favor of things that I have been working on for forty years. But that does not make me a member of your generation. And how do I know that you will not in fact, be opposing these very goals ten years from now?"
Not just ten but more than forty years have passed since then and we can proudly say that Peter Niggli is not opposing the goals of his youth and he is as committed now as he was then to the goals of justice, of solidarity, of living well (which is not the same as having more) and in harmony with the environment.
Maybe then he shouted more and now he is whispering... but the horse whisperers of the pampas know very well that often a whisper is more effective than a whip.
I wish I was making this comments in Spanish. To talk about "retirement" in English, or "la retraite" in French, sounds a bit too close to "defeat". Armies "retreat" after losing a battle. And the German "Ruhestand" sounds even worse! I would not offend Peter implying he will be "ruhig" from now on!
Instead, in Spanish we speak of "jubilación" which has the same root as Jubilee or even the German "Jubel". We all wish Peter as "jubilado" all the Jubel and well-deserved Freude, but we don't want him to retreat nor to be quiet and 'ruhig'. And having known Peter for a couple of decades now, I am sure he wouldn't accept either of them.
These are times of change. In our own little "business" which is development, the recently approved Sustainable Development Goals are telling all of us that we must change paradigms. Inequality, which was never a concern, is now on top of the agenda. All countries are required to ensure rights such as the right to water, to social security, rights to work and rights at work and, now very high in the agenda, women's rights. In Latin America we speak of the rights of Mother Nature to talk about what others call "planetary boundaries".
The new agenda is universal. No country of the world can claim to be "sustainably developed". We all have a common responsibility, even if differentiated.
This is the new agenda that Alliance Sud will be facing... without Peter. I am not worried. Alliance Sud is in good hands. But I do want to publicly challenge Peter to think and write and speak about these issues because the old questions need new answers.
Margaret Mead said that "we need new models to teach children not what to learn, but how to learn and not what they should be committed to, but the value of commitment". This is a value that we all recognize in Peter and that I urge him to keep teaching.
Danke Schön. Thanks so much, Peter.
»