Czech gender equality NOGs fear loss of European funding
Published on Wed, 2018-06-20 00:00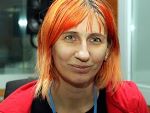 Jana Smiggels Kavková.
Photo: Jan Sklenář / Czech Radio
Despite the Czech Republic stagnating in the worldwide effort to bring about gender equality, the country's government plans to cut funding for equality projects significantly in the coming years. That's according to the Czech branch of the international NGO network, Social Watch.
Eurostat data sets the country's pay gap at more than 20 percent, while at the same time the difference between men and women being able to find employment lies at 15 percent.
Markéta Mottlová is an analyst at Social Watch. She says the Czech Republic doesn't even reach the European average in terms of the gender pay equality.
"I would almost say it is not the average I would say it is going under the average. In case of the gender pay gap for example, we are ranked as the second worst country [in Europe] when it comes to the salaries of women and men. It seems that we will move in a similar direction to Hungary because attacks on gender NGOs happen quite often nowadays."
Mottlová also drew attention to the worsening perception of gender equality NGOs in the country and the danger that inaccurate rumours pose for the ratification of the Istanbul Convention, an eight-year-old agreement by the Council of Europe, which laid out the policy lines for preventing and combating violence against women.
Jana Smiggels Kavková, head of the Czech Women's Lobby, highlights that the convention deals only with violence against women and not with imposing an "ideology" as some politicians have put it.
"Opponents talk of an implementation of some sort of 'gender ideology'. No one knows what such a term exactly means, but it is freely used nonetheless. It is surrounded by myths claiming that ratifying the treaty will cause the end of the traditional family and similar nonsense, although the convention itself deals exclusively with protecting victims of abuse."
Most palpable however, was the fear surrounding recent plans by the Czech Ministry of Labour and Social Affairs to cut all funding for gender equality initiatives from the European Social Fund. The Ministry intends to use all of the money from the fund on an extensive infant-school project, which, it is hoped, will enable women to shorten their maternity leave and remain competitive on the job market.
Social Watch and the Czech Women's Lobby acknowledge this move as a positive measure for children, but warned that this will completely remove all employment support for those groups of women that are most marginalised groups on the job market, such as single-parents, over fifty-fives and ethnic minority members.
Source: Radio Praha.