Paraguay
El tortuoso camino hacia el cumplimiento de los ODM
Lentos avances hacia los ODM
Como firmante de la Declaración del Milenio, el Estado paraguayo está comprometido a cumplir con los Objetivos de Desarrollo del Milenio para 2015. El hoy ex presidente Nicanor Duarte Frutos (2003-2008) reiteró ese compromiso, y su sucesor Fernando Lugo (2008-2012) lo incluyó explícitamente en sus dos principales programas: el Plan Estratégico Económico y Social 2008-2013 y la Política Pública para el Desarrollo Social 2010-2020.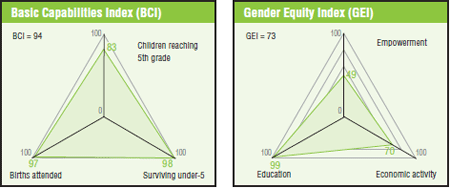 Published on Fri, 2012-11-30 06:50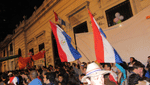 Pro-democratic demonstration
in Asunción, in june.
(Photo: Decidamos-Paraguay)
"The social contract was broken" in Paraguay by the "parliamentary coup" that ousted President Fernando Lugo on 22 June 2012, informs Decidamos, a campaign for citizen rights, in its contribution to the Social Watch report 2013.
Lugo became president with 41% of the votes, and in 2011, three years into his Administration, he had the approval of 50% of the population."
Published on Tue, 2011-08-16 09:09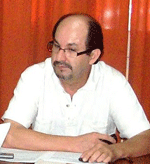 Ruben Ayala, Voces Paraguay,
(Photo: SPP)
Source: Campaña por la Expresión Ciudadana
The telecommunications bill that is currently before the Paraguayan Parliament does not establish media communications as a universal right of all citizens but considers it a product in the market place. According to Rubén Ayala, the coordinator of the Association of Community Radio and Alternative Media (Voces Paraguay), in a statement on the portal of the Campaign for Citizens Expression (Campaña por la Expresión Ciudadana), the focal point of Social Watch in the country, one of the motives behind this restrictive proposed legislation is that it would limit the power of community radio stations and civil society organizations and prevent them from obtaining finance by selling advertising.
Published on Fri, 2011-06-24 09:32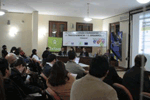 (Photo: Decidamos)
Sources: Centro de Documentación y Estudios, Diario Al Día, Decidamos (Campaña por la Expresión Ciudadana).
One of the "huge mistakes" defended "as great truths" in Paraguay is that businesspeople "pay a lot" to the revenue service while in fact "direct taxation, which is the most unfair, is the largest" and "poor people end up paying more than the rich", according to a report by economist José Carlos Rodríguez. The report was presented this month at the launching of the programme "Impuestos justos para inversión social" [Fair taxes for social investment] promoted by the
Source:

. Published on Wed, 2004-12-01 16:38
»