Spain
Wasted words, empty policies
When the present Government came to power it announced it would support sustainable development, but it has not made good on these commitments. In fields like gender and energy policies and overseas development assistance Spanish civil society organizations have heard a lot of promises but the actual concrete results have been meagre. Today, as a consequence, there are no solid policies to promote gender equality or to work towards a sustainable development model that involves reducing greenhouse gas emissions or promoting the development of renewable sources of energy.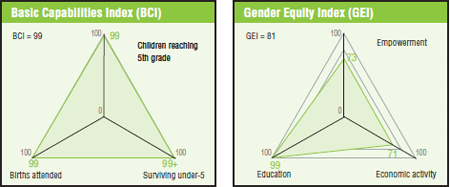 Published on Wed, 2012-05-16 09:26
The danger of policy measures designed to socialize the costs of the crisis have become painfully apparent in Spain, where the impacts of successive austerity budgets have resulted in deteriorating outcomes across a broad spectrum of human rights indicators, warned the Center for Economic and Social Rights (CESR) in a parallel report coordinated with 18 civil society groups for the UN Committee on Economic, Social and Cultural Rights' 48th session, held earlier this month in Geneva.
Published on Mon, 2011-09-05 08:12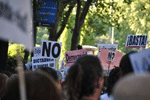 One of the protests last week
in Madrid. (Photo: sgcg.es)
Source: Plataforma 2015 y Más
The main union federations in Spain and many civil society organizations including Plataforma 2015 y Más (a member of Social Watch) established last week a programme of demonstrations to express their rejection of the change to the Constitution the governing Spanish Socialist Workers Party (PSOE) and the opposition Popular Party (PP) are contemplating. The change would set a limit to the public deficit, and the people's organizations are calling for a public referendum to decide this matter.
Published on Fri, 2011-07-08 09:07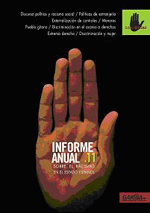 SOS Racismo
Sources (in Spanish): SOS Racismo, El Comercio, Ecuador, EFE, at Mugak, Cadena SER.
Racism and xenophobia have intensified in Spain under the influence of political forces and traditional parties that have assumed postulates until now restricted to the extreme right, warned the federation of non-governmental organizations SOS Racismo in its latest annual report. In recent months, "a time bomb" has been created, while "the political class fails as a whole; ones for playing the racist game and others for not condemning it enough", said Alba Cuevas, the spokeswoman for the network in Cataluña.
Published on Wed, 2011-05-18 13:14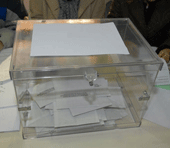 Source: Plataforma 2015 y Más
Plataforma 2015 y Más [Platform 2015 and Beyond], one of the focal points of Social Watch in Spain, urged citizens to exert their right to vote with responsibility in the upcoming autonomic and municipal elections on Sunday 22. Thus, citizens were urged to vote for the options that include the defence of public policies in their programmes so as to ensure the State's commitment to the eradication of poverty and inequalities.
Published on Thu, 2010-04-22 11:29
The Spanish Social Watch (SW) Coalition, constituted by Plataforma 2015 y más [Platform 2015 and Beyond] since 2006, joins the efforts of the social organizations which, within the global SW network, are working for sustainable human development and the fulfilment by governments of international agreements in the fight against poverty and inequality.
»